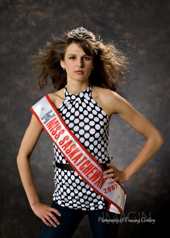 Nina Gueguen has acclaimed the title of Miss Saskatchewan 2007. As the new Miss Saskatchewan 2007, Nina will be representing the province at the Miss Canada Globe 2007 Pageant, which will be held on August 19th at the Metropol Theater in Toronto.
Nina is 19 years old and has been a resident of Humboldt, Saskatchewan her entire life. She attended St. Augustine elementary school and Humboldt Collegiate Institute. She has recently finished her first year of university studies at St. Peter's College in Muenster, Saskatchewan, and plans to continue with her studies at the University of Saskatchewan this fall. Nina acclaimed the title of Miss Saskatchewan on June 11, 2007. She competed against 170 applicants from Saskatchewan in a recorded telephone interview. Nina will compete in the Miss Canada Globe Pageant in Toronto from August 17-19th.
Nina has been involved in her community for many years. She has volunteered in a variety of capacities including school, church, and community groups. Part of Nina's mandate for competing in the Miss Canada Globe Competition is to advocate for individuals with special needs. She also wants to promote volunteerism within society. Nina feels that volunteerism aids in making the world a better place for others. Nina says, "When we put a smile on another individuals face, the world is a happier place."
Nina is looking for province wide support and media awareness during her quest for the national title. For more information on Miss Canada Globe, please visit
www.misscanada.tv
.