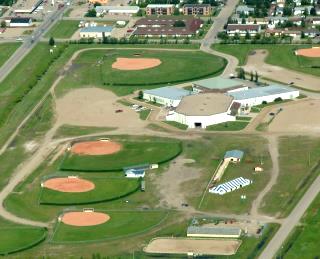 The Leisure Services Department is responsible for the operation of the city's facilities and parks as well as the provision of programs, special events, tourism, and economic development.

The Uniplex is the main recreation facility and is located on Highway 5 West (photo at right). The facility includes the Humboldt Aquatic Centre, Elgar Petersen Arena, a six-sheet Curling Rink, and Community Centre with meeting rooms and banquet hall. Adjacent to it are ball diamonds and fair grounds.
Click here for a map of the uniplex.

The Leisure Services Department maintains 198 acres of parks and green space throughout the community. This includes mowing, tree pruning, weed control, fertilizing, litter control, playground maintenance and baseball diamond maintenance.

The Historical Park and Campground is located on Highway 5 East next to the Visitor Information Centre. The park has available 14 electrical sites and six non-electrical sites.

The Leisure Services Department attracts many visitors to the city through programs and special events. Activities taking place throughout the year include Kids Day, Canada Day, Humboldt Polkafest, Humboldt Summer Sizzler, Oktoberfest, Christmas Tree Light-up, and the Annual Terry Fox Run.

Our vision is that the Humboldt Leisure Services Department will be a vital element in shaping the future in our community. Our mission is to enhance the quality of life and be a catalyst for community development in Humboldt and region.

We value Integrity in every aspect of our organization. We believe in honesty, trust and respect.

We value Excellence as a standard of achievement. We believe in being creative, innovative, and proactive.

We value the Individual Worth of each member of our team. We believe in diversity, commitment, and personal growth.