Kraft Hockeyville 2009
Congratulations to Humboldt Hockeyville for winning the 2009 Carol Schaad Community Achievement Award. This award is presented to the Humboldt community for substantial cooperative community effort in an initiative that enhances the quality of life for a significant number of people in an area. A Humboldt Hockeyville representative is invited to attend the 2009 Saskatchewan Parks & Recreation Association Inc. (S.P.R.A.) Awards Banquet on Friday, October 23, 2020 to receive this award. Thank you to the City of Humboldt Leisure Services Department for nominating Humboldt Hockeyville for this award and to the Humboldt community for all their cooperation!
---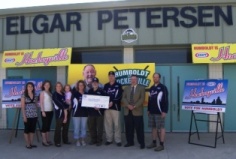 On Tuesday, May 26, 2009 co-chairs Gordon Lees and Malcolm Eaton were presented with a cheque for $25,000 from the Kraft Hockeyville 2009 Partners.
---
Congratulations to Terrace, BC for winning the Kraft Hockeyville 2009 title! Humboldt finished in 2nd place – an accomplishment we should all be proud of! What a wonderful journey it has been. A huge thank you to everyone who was involved and for the tremendous support! The Humboldt area showed a great deal of community spirit and pride and the provincial and worldwide support was amazing! Congratulations to the Top 5 communities – thank you for the wonderful experience!
Top 5 Voting Results:
1st Terrace, BC 1,923,456
2nd Humboldt, SK 1,810,100
3rd Woolwich Township, ON 1,163,142
4th Harbour Grace, NFLD 754,936
5th Thetford Mines, QC 739,365
---
Hockeyville NEWS, click here.
Hockeyville PHOTOS, click here.
---
For more information, please contact:
Gordon Lees
Co-Chairman
Hockeyville Committee
306-682-2652
[email protected]
Malcolm Eaton
Co-Chairman
Hockeyville Committee
306-682-2525
[email protected]