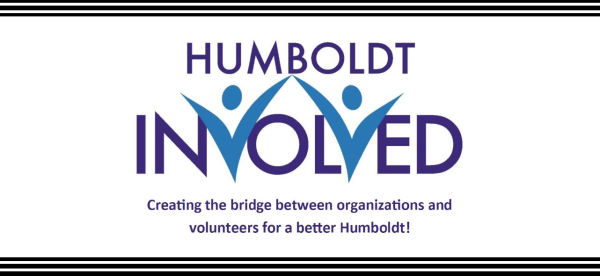 Become Involved Today!

We have entered an exciting time with a great deal of growth in our communities. With this, comes an increase of needs and therefore a demand for more volunteers. Currently there are more than 60 non-profit organizations and groups who utilize volunteers in and around the Humboldt area.

Humboldt involved is a bridge for organizations and volunteers. We are here to assist groups who are in need of volunteers but are struggling to find them. We also assist individuals who are contemplating a meaningful volunteer opportunity to aqcquire what they are seeking.
--------------

Our Mission:
To act as the bridge between organizations in Humboldt and area that require volunteers and individuals volunteers who are seeking positive volunteer experiences.

Our Vision:
Enhanced quality of life through our actively involved people and community working together.
--------------
Why Volunteer?

Besides meeting new people, learning new skills, and surrounding yourself with like-minded people of the community, volunteering is a rewarding and fulfilling experience for people of all ages.

Get the Family Involved

Volunteering is a fantastic family bonding activity which helps children grow with a strong sense of community, a raised self-esteem, and an overall increased quality of life.

"The Health Benefits of Volunteering: A Review of Recent Research has found a significant connection between volunteering and good health. The report shows that volunteers have greater longevity, higher functional ability, lower rates of depression, and less incidence of heart disease."

Don't just get your children involved; ask your spouse and even your siblings or parents to help out! Research suggests that volunteering is particularly beneficial to the health of older adults.
An analysis of longitudinal data found that individuals over 70 who volunteered approximately 100 hours had less of a decline in self-reported health and functioning levels, experienced lower levels of depression, and had more longevity.
--------------
Current Organizations Involved

1st Westminster Scouts
Big Brothers, Big Sisters of Humboldt
Canadian Cancer Society - Relay for Life
City of Humboldt - Events
Family Services - PARTNERS Building Hope
Forever...in motion
Habitat for Humanity
Humboldt and District Community Services
Humboldt and District Kinettes
Humboldt Broncos
Humboldt District Hospital
Humboldt Kid's Recreational Hockey Program
Humboldt S.P.C.A.
Humboldt Soup Kitchen
Humboldt Trails Committee
Safe Communities Humboldt & Area
---
*Humboldt Involved is not responsible for screening volunteers to work with specific groups. We put the organizations in need of volunteers in touch with individuals with the necessary skill sets and interests to volunteer. All screening and interviewing is up to each group.*


For more information on Humboldt Involved, please feel free to contact us!
P: (306) 682-2597