Whether you are in Humboldt for business or pleasure, our accommodations are here to serve as your home away from home. We have a variety of accommodations to suit your travel needs - from hotels to bed & breakfasts to a campground and many area regional parks.

Local Accommodations
Bella Vista Inn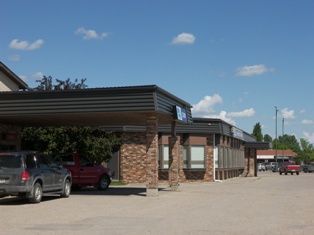 8th Avenue West
Phone: (306) 682-2686
E-mail: bellavistainn@hotmail.com
Website: bvinn.sasktelwebsite.net
45 rooms with high speed wireless internet, telephone, cable television, refrigerator, air conditioning, maid service, microwave oven, coffee/tea maker and alarm clock. Non smoking. Pets welcome. Wheelchair accessible rooms available. Licensed restaurant, beverage room, hospitality suite, banquet and meeting facilities, indoor pool, sauna and whirlpool.

Canalta Hotel
2421 - 8th Avenue
Phone: (306) 682-4731 or 1-888-831-1331
Website: www.canaltahotels.com
86 rooms with wired or wireless internet, coffee maker, telephone, cable television, microwave, refrigerator, and iron board. Non smoking. Pets welcome. Handicapped rooms available. Free deluxe continental breakfast, free cookies and popcorn, heated indoor pool, hot tub, waterslide, fitness centre, business centre, meeting room, guest laundromat, and RV, bus or truck parking.

Pioneer Hotel & Motel
627 - 9th Street
Phone: (306) 682-2638 or 1-866-682-2638
E-mail: rwittke@sasktel.net
Website: www.thepioneerhotel.com
41 rooms with high speed internet, telephone, 32 inch LCD cable television, air conditioning in 30 of 41 rooms, in room coffee, hair dryer, refrigerator, 10 rooms with kitchenettes, non-smoking and smoking rooms available. Licensed restaurant and dining room, beverage room, conference and banquet facilities.



Humboldt Executive Suite
Corner of 7th Avenue & 17th Street
Phone: (306) 262-6265
E-mail: franki@humboldtexecutivesuite.ca
Website: www.humboldtexecutivesuite.ca
Convenient suite-style option for short or long-term stays. Newly renovated. Includes free wireless high speed internet, international long distance and Netflix subscription, fully-equipped kitchen, in-suite laundry and once-per-week maid service with towel and bed change. Minimum four day stay.


Prairie Lilly Lodge
0.5 km west of Humboldt on Hwy #5.
Phone: (306) 682-4353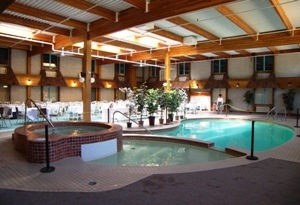 E-mail: canapatatoe@hotmail.com
Luxurious and comfortable log lodge, double and single accommodations include: private entrance and bath, wireless internet and satelitte TV.
Evergreen Grove Bed & Breakfast
3.2 km south of Humboldt on Stoney Lake Road
(off of Hwy #20)
Phone: (306) 682-5270
Three comfortable guest rooms in a peaceful rural setting, varied breakfast menu, smoke free environment, family oriented.

Area Accommodations
Backroads Bed & Breakfast
3/4 km west of Annaheim and 2 km south, or 13 km north of Hwy #5 on Muyres Road
Phone: (306) 598-2141
E-mail: lskunz@bogend.ca
Website: www.backroadsbb.ca
Quiet restful farm, full home style breakfast, queen and double beds available, guest house with 3 bedrooms also available, smoke and pet free environment.

St. Peter's Abbey
Muenster, SK
10 km east of Humboldt on Hwy #5
Phone: (306) 682-1775
E-mail: guestmaster@stpeters.sk.ca
Website: www.stpetersabbey.ca
St. Peter's Guest House has 35 rooms for single and double occupancy, open area dormitory can also accommodate 100 guests, home cooked meals available - most food is grown on site by the monks, group bookings welcome.

Watson Motor Inn
Watson, SK
42 km east of Humboldt on Hwy #5
Phone: (306) 287-4338

Lagana Hotel
Lanigan, SK
46 km south of Humboldt on Hwy #20, then east on Hwy #16
Phone: (306) 365-2916

Camping Accommodations
Humboldt Historical Park Campground

8th Avenue East
Phone: (306) 682-4990
E-mail: humboldtchamber@sasktel.net
Website: www.humboldtchamber.ca
The Humboldt Campground features 18 electrical sites and 2 non-electrical sites in a beautiful, well treed area located adjacent to the Humboldt Golf Club in the heart of the City of Humboldt. On site amenities include modern washrooms and showers, 18 holel mini golf, historical caboose and Tourist Information Centre. There is also a large, grassy overflow area for tenting.
The Humboldt Campground is open approximately May to October (weather permitting). Reservations are recommended.
To view a map of the Historical Park Campground, please click here.

Leroy Leisureland Regional Park
Located 6.4 km west of Leroy. 19.2km off Hwy #6. 20km off Hwy #5.
Phone: (306) 286-3437
Lucien Lake Regional Park
Located 1.6 km west of Middle Lake off of Hwy #20.
Phone: (306) 367-2121
McNab Regional Park
Located at the south end of the town of Watson on Hwy #6.
Phone: (306) 287-4240
St. Brieux Regional Park
Located 1km west of St. Brieux on Hwy #368.
Phone (306) 275-2255