Dear Friend,

Welcome to our beautiful prairie city in the heart of Saskatchewan, Canada!

How do you "size up" a community? The "sizing up" process depends to a great extent on what you are looking for, and the information available. This site is directed to the civic government side, with city news and council minutes updated regularly.

As the proud mayor of Saskatchewan's newest city (April 1, 2021), I thank you for choosing this site and invite you to "check us out".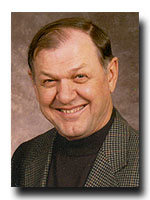 Mayor Dennis Korte
Our amenities are second to none. A strong job market, growth oriented businesses, award-winning manufacture and agricultural sectors, available industrial land, the very best K-12 schools, adult regional college, a 2 year (soon to be 4 year) liberal arts university, affordable entry level and luxury housing, excellent shopping, fabulous sport facilities and a city council dedicated to planning for growth.

The latest Canada Census shows Humboldt to be one of the growing communities in Saskatchewan, and our city council is very positive towards future expansion. In 2004-05, we'll be well on the way to construction of our new hospital which will serve health needs of our city and district in the coming decades. Professional services include a ten doctor medical clinic, optometric practices, dentists and denturist as well as chiropractic and massage clinics.

For nearly a century we're known as "The Heart of the Sure-Crop District". In the 1970's we added "The Mustard Capital of the World" because of our contracting and exporting mustard around the world. To tourists we're also known as "A Little Bit of Germany in the Heart of the Prairies&quot.; We're noted for strong and aggressive businesses, and are considered a full service centre for all of rural Saskatchewan needs.

Be sure to check out our year round fun and festival line-ups.

How do we "size up" to your hopes and expectations? Whether you are a young job seeker, a business or professional person, I would like to emphasize that Humboldt, in the heart of Saskatchewan, is THE opportunity spot. Humboldt is home to many large and small industries whose products are sold nationally and internationally. We have skilled local tradesmen and suppliers to provide technical and service support for your business needs. Our zoned industrial area and business districts are ready and offers opportunities for new development or expansion. I would be more than happy to meet with you personally to discuss your business plans.

I welcome any questions or comments about our city and on behalf of city council, please accept this as my personal invitation to visit us.

Mayor Dennis Korte