View one of our great, self-guided tours!


Humboldt and Area Humboldt and Area Humboldt Area Church Humboldt Points of
Art Attractions Golf Tour and Cathedral Tour Interest Tour


Benson-Hingley Military Museum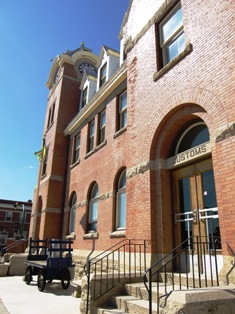 Located at the Royal Canadian Legion, 324 Main Street
Phone (306) 682-5901 to arrange an appointment
War destroys but war also defines. Through its extensive collection, the impact of war is remembered and preserved, at the award winning Benson-Hingley Military Museum. Come and experience for yourself what young men and women experienced as wartime demands changed Canada and Canadians forever. In remembering may we never forget!

Humboldt & District Museum & Gallery
Located at the corner of Main Street and 6th Avenue
Phone (306) 682-5226
Visit our website!
The Humboldt and District Museum & Gallery offers visitors a unique view of the multicultural heritage of Humboldt and area. Take a walk through a pioneer home, one-room school, railway and general store. The museum is also home to the Sports Hall of Fame collection, which features sports legends such as Glenn Hall and Leo Parker, as well as other sports memorabilia. A special feature is the 1963 stain glass window from the Ursuline Convent in Bruno. Be sure to step into the replica 1878 Humboldt Telegraph Station - complete with a computer interactive component for all to learn morse code! A panoramic mural depicts the role of the Humboldt Station in the Riel resistance of 1885.



Humboldt Historic Water Tower
Located at the corner of 5th Street and 3rd Avenue
Phone (306) 682-4339 or (306) 682-3855 to arrange a tour
Built in 1915, this tower is one of only four such structures remaining in the province. The exterior design is striking due to its resemblance of a coastal lighthouse. It is distinguished by a wooden shell pierced by four slender windows spiraling to the top suggestive of an interior spiral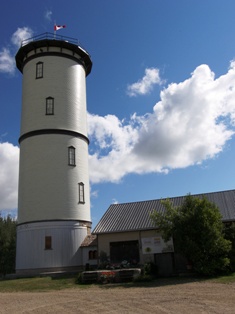 staircase. An outside catwalk circles the cone-shaped cedar shingle roof. Technically referred to as a standpipe water reservoir, the interior of the tower consists of a riveted steel tank approximately 20 feet in diameter and 80 feet high. Humboldt's Water Tower Committee takes pridein the distinction of having the tower as only one of nine projects across Canada thus far selected as a part of the Heritage Canada Foundation Landmark Preservation Program. Tours are available during the summer months or throughout the year by appointment.

Humboldt's Murals
Phone (306) 682-2525
Toll-free 1-877-277-6748
Take a walk through downtown Humboldt and feel like you are walking through an outdoor art gallery. The Humboldt Murals show you immigrants struggling on the Carlton Trail and the Humboldt Telegraph Station, Humboldt's beginnings, and more. Pick up a Humboldt Murals brochure at the Tourist Information Centre, Humboldt Uniplex or Humboldt & District Museum & Gallery.


---